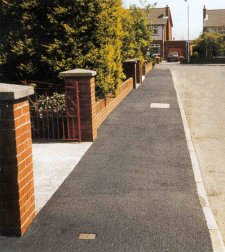 Finished footpath with Ralupath
Ralupath has a positive texture unlike Bitmac. It also has a significant advantage over asphalt in the icy winter months by improving texture.
Street furniture, kerbs and entrances to drives are taped up to provide a neat joint which is aesthetically pleasing. Generally speaking most metalwork is already high and therefore Ralupath can be feathered into it, avoiding the cost of re-setting metalwork. When the existing metalwork is very low it should be raised in advance of applying Ralupath for best finished appearance.
Benefits
Cold applied
Visually pleasant
Hard wearing
Little disruption to traffic/pedestrians
Fast setting 15 - 20 minutes
Fast application
Cost effective
Positive textured surface
Black in colour