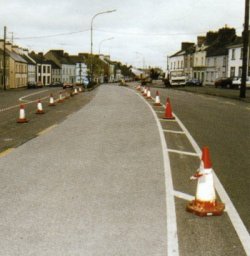 Spraygrip 2 is chemically cured and the curing times are dependent on surface temperatures. This product is fuel and oil resistant and can be supplied in several gradings, the coarser grading used for vehicular traffic and the finer graded material used for pedestrian traffic. This process can be applied to both carriageway and footpath.
It has been proven that Spraygrip2, when applied to junctions, will reduce accident frequency. From studies it has been shown that it has a payback period of less than two years. Typical applications for the coarse aggregate include traffic calming, car parks & airports. Fine aggregate can be applied to the following locations, pedestrian crossings, wheelchair ramps, parks, pedestrian bridges, pedestrian walkways, cycle tracks, rail & bus platforms.
Natural Grey Guyana Bauxite used as a traffic calming measure in a town center.
Pigmented red calcined bauxite being hand applied to a footpath to create a cycle lane.